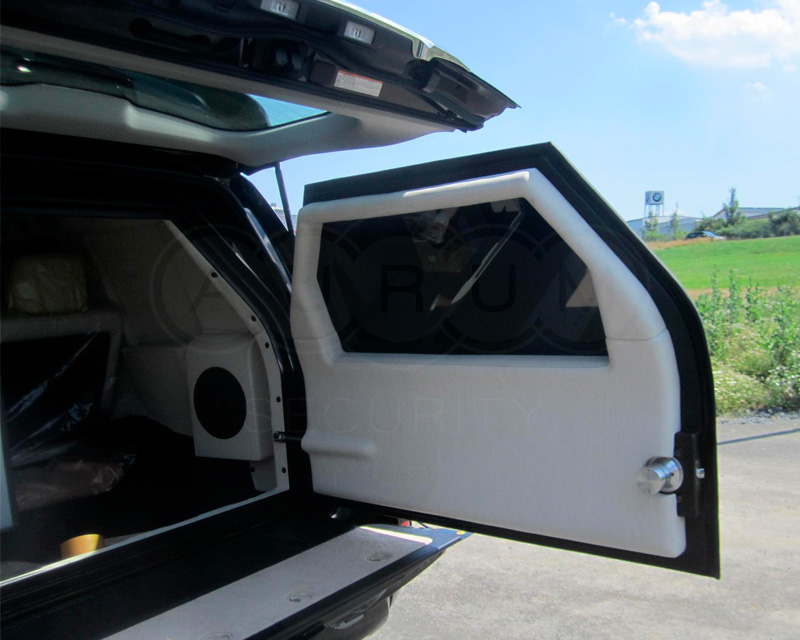 We specialize in designing and manufacturing of personal security vehicles with the highest protection level for civilian vehicles VPAM VR10. We have been certified by Lloyds according to ISO 9000 standard. We assure that each of the vehicles meets the highest standards of quality and safety.
The unique and revolutionary components we use in our armored vehicles to ensure the highest safety of our clients are given below:
Ballistic Armor - It is the vital element that is found in every armored vehicle and this is what makes it "armored". They are the thick ballistic metal plates that are installed directly to the sub-frame of the vehicle. We use certified materials and modern 3D CAD systems to design armor scheme of our vehicles. On the basis of the thickness of the armor-piercing heavy caliber projectiles. In addition, hot-forming technology is the only way of producing shaped components from UHH steel (600 HB and more).
Bullet Resistant Glass - Transparent armor inside armored vehicles. The glass used in our armored vehicles the highest quality and produced under the brand Aurum Glass. Using varying thicknesses and compositions, the glass is "dialed in" to the exact level of armor. The glass is capable of withstanding attacks and explosions of significant magnitude, even 15 kg of TNT, as well as shots from any angle.
Run Flat Tire System - The tires in the ordinary vehicle can be rendered inoperable even if something as small as a household nail is pinched into it. Our armored vehicle includes heavy duty wheels "18" with run-flat inserts. The loading capacity per wheel is 1.600 kg which has been certified by German TÜV. The run-flat system fully meets the requirements of FINABEL 2.0. These devices sit within the tire and allow driving after the puncture or blow up of the tires for the distance up to 50 km with a speed up to 80 Km/h.
Grill Bumper Guards - In order to safeguard oneself in a situation where one vehicle is used to ram into another, Aurum Security makes sure to install the bumpers and grills. Such additional reinforcement equipment in the edges of the armored vehicle . The armored vehicle can also remove debris and clear its path for a swifter with minimal hindrance to its speed or mobility.
Our Armored Toyota Land Cruiser 200 and Armored Lexus 570 have been produced to the highest level of protection - VR10, after undergoing several blast tests and ballistic tests. The armored vehicle is fully tested and certified by iABG, Germany - one of the most reputable test centers across the world. In addition to all of this, state-of-the-art, along with standard protection, our armored vehicles to seek new heights in the automobile industry.
Comments: