What does it mean – VPAM VR 10?
VPAM is the latest European standard for ballistic protection, which is now used to replace the old commonly used classification levels from B1 to B7:

"VR" means that complete vehicle has been tested and certified, and not only the materials used.
So VPAM VR 10 means that complete vehicle was tested and certified to the level VPAM 10, this is the next level after B7.
Why is it important to test a complete vehicle?
Because the practice shows that it is impossible to design reliable protection of the whole passenger cell without any tests; this is also the reason why crash-tests are mandatory in the whole automobile industry.
Here is an example of a regular not tested & not certified armored vehicle – it came under attack in Yemen, 17 bullets were shot at the car and 4 of them (i.e. about 25%) penetrated the protection, wounding a passenger.
You can read more about this incident here
During the VR certification our vehicle was tested with 550 shots:
Obtained certification VPAM VR 10, meaning that the final design has no ballistic gaps
Why is VR 10 better than a "regular" protection B6?
Basically for 2 reasons:
firstly, it protects against MANY shots from Kalashnikov automatic rifle, and not only 3 shots like regular B6 vehicles (on the area 500 x 500 mm)
and secondly, it will protect even against such a powerful sniper rifle as Dragunov, armor-piercing bullets. When shot at B6 vehicles, these bullets penetrate from one side and come out from the other side
What does it mean – blast protection up to 120 kg?
Our vehicles sustain side blasts of up to 120 kg TNT at 4 m – a charge and a distance hardly achievable in a real life. That requires complete modification of the car body, but if it was not done, even minor blast are deadly for their passengers:
You can find more details regarding the protection level of our vehicles here:
We believe that a vehicle with a military level of protection does not have to have the same level of comfort – that's why we made an effort to make sure our vehicles still have look and feel of a luxury SUV and redesigned the complete interior of the vehicle:
Сomparative photos of base and armored SUV Toyota LC200 VPAM VR10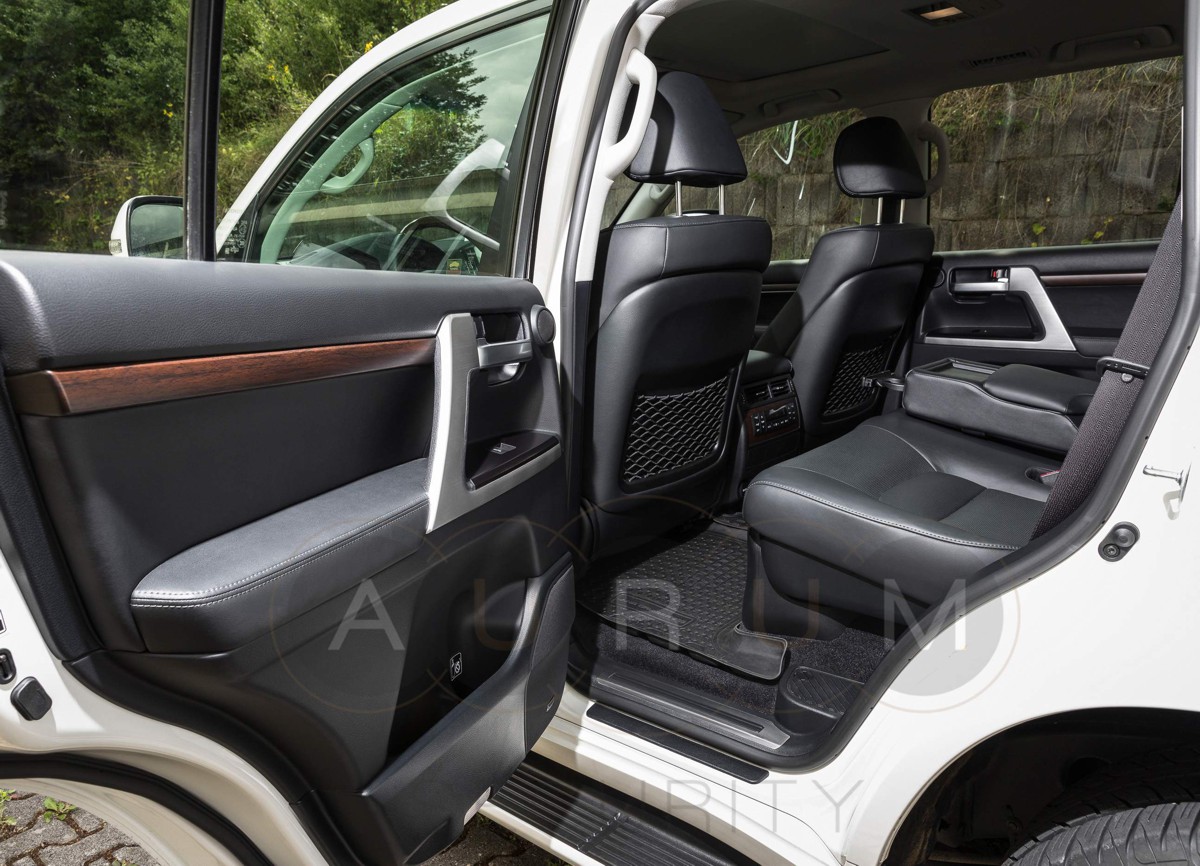 Base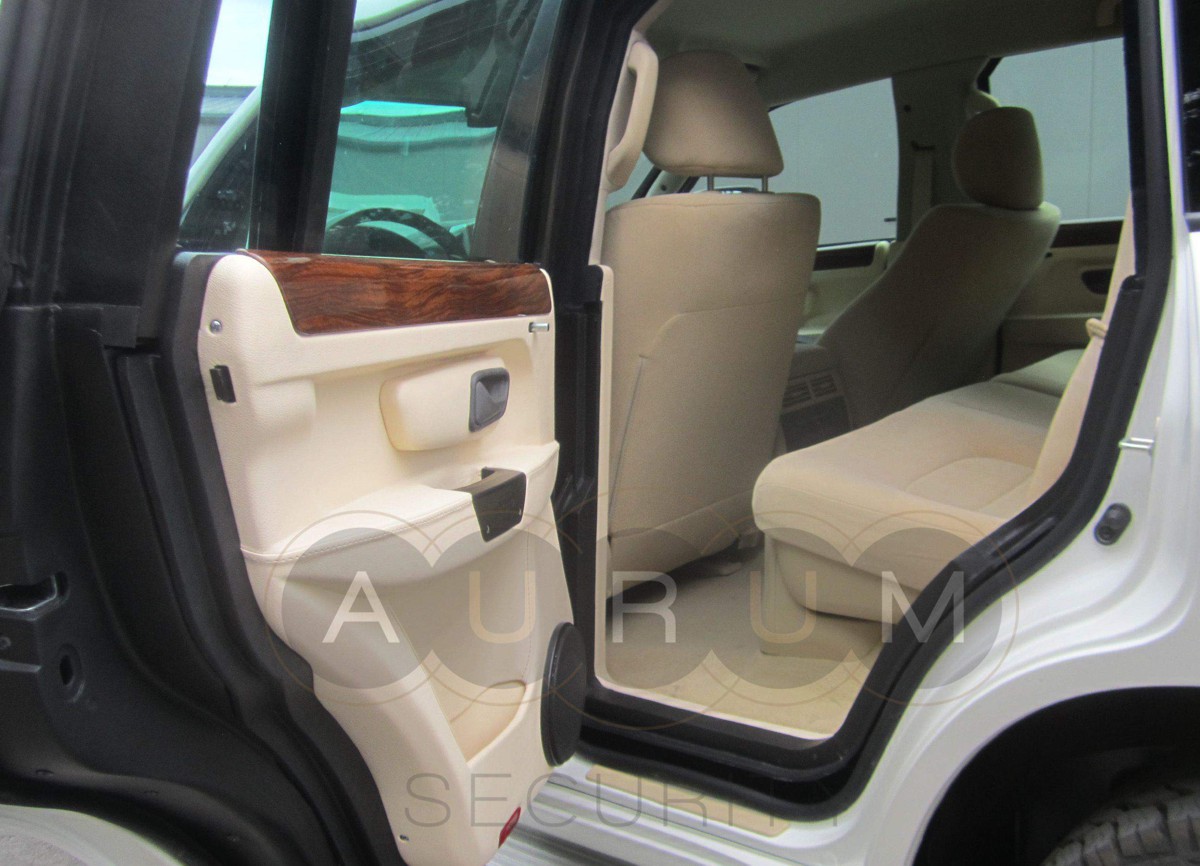 Armored
More comparative photos of a base vehicle and our armored SUV Toyota LC200 VPAM VR10 (B7+) are available here.
A couple of pictures more:
You can get a better idea of the quality of the finishing of our vehicles here:
What else is special in your vehicles?
Many things:
Contrary to glasses of most armored vehicles, our glasses provide protection not only at room temperatures (as per European standards) but also at the temperatures of up to +49° C (NATO standards)
Our vehicles have maneuverability needed to pass roadworthiness tests, i.e. they can be certified for driving on public roads even in Germany
All windows are operable. Each glass weighs about 75 kg but goes up and down in 2.5 seconds, absolutely quiet
Despite a weight of 140 kg, opening and closing doors requires little effort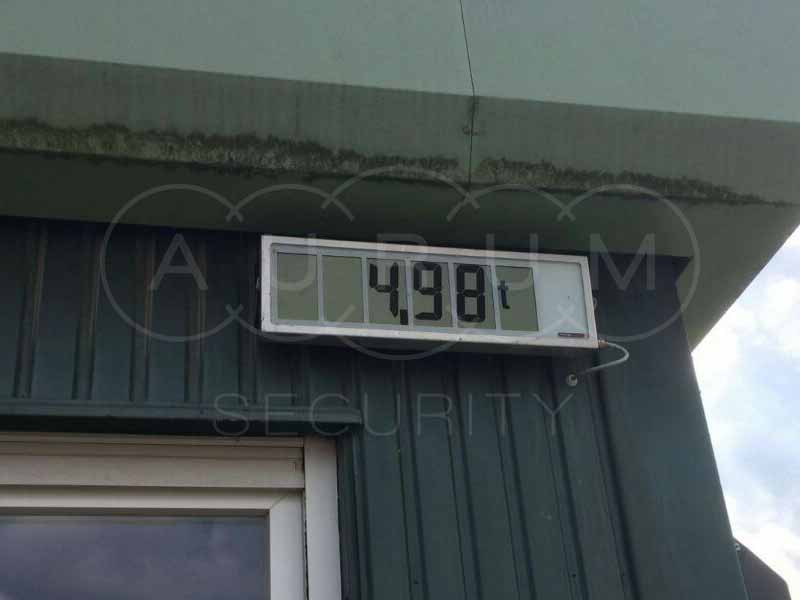 Quality in every detail. You will not have to cut the armor in order to change the fuse. You will not find an ugly screw because we had found it ourselves
Reliability and robustness. We provide 1 year of warranty for the complete vehicle, 2 years for glasses against delamination and 5 years warranty against corrosion of the armor. Most of the companies provide warranty for "armor parts" only.
Despite the level of protection, our cars weigh only 4900 - 5000 kg:
It is only about 12% more comparing to a regular "B6" armored vehicle
With such a weight and thickness of the glasses, can this vehicle still drive?
It might come as a surprise, but actually yes.
Have a look here – Lexus LX 570 armored to the level VPAM VR 10 accelerates from 0 to 100 km/h in only 12 seconds
Optical distortions of the windshield can hardly be seen
Who manufactures civilian vehicles with that level of protection?
From August 2013 till February 2016 we were the only company in the world, which certified a civilian vehicle to the protection level VPAM VR 10.
In February 2016 a premium German car manufacturer also certified a sedan vehicle according to the level VR10.
We found at least four differences between these vehicles and our ones:
1. Our vehicles are SUVs, meaning they are much better prepared for not so good roads and allow for escape on terrain in case of attack
2. We believe that our vehicles provide MUCH higher protection against blasts
3. Bullet-proof glasses in our vehicles provide protection at any angle (also at 90 degrees) and not only in installed position:
4. Our vehicles are MUCH cheaper